PSL is an award winning international manufacturer providing quality innovative technology and process systems to the pharmaceutical, biopharmaceutical, chemical and laboratory industries since 1989.
PSL's solutions enable clients to bring new generation drugs into the marketplace faster, using the latest technology in containment and production equipment. PSL is an original pioneer of glove box containment systems and has significant experience designing and engineering advanced containment processes for highly potent and valuable products, including sterile, oncology, hormone and many other pharmaceutical compounds. PSL provides a full range of filtration, drying and high containment products from small-scale production to full process systems.
Filter Dryers
PSL is a centre of engineering excellence in the design and manufacture of filter dryers. Our agitated nutsch filter dryers (ANFDs) are extremely efficient and ergonomically designed for washing and isolating solids, even in the most difficult production processes. Our engineering team and process experts draw on a wealth of experience to design and manufacture a complete range of filter dryers from chemical development to full scale bulk production.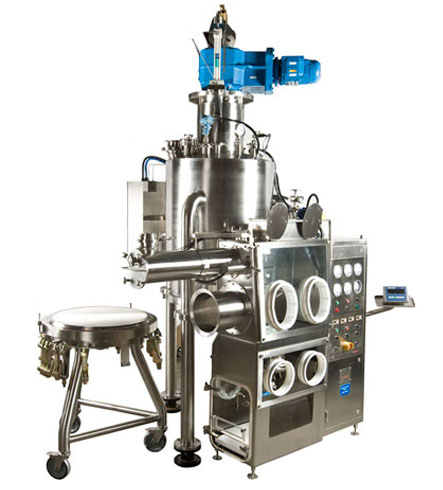 PSL's series of filter dryers comprises a number of refined standard filtration solutions, with or without integrated containment systems. Through working in partnership with our customers, we ensure their exact requirements are fulfilled.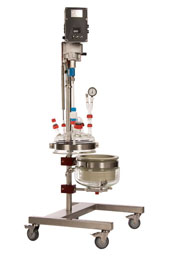 GFD – Lab Glass Filter Dryers(patent pending)
PSL's Glass Filter Dryers (GFDs) are an innovative piece of laboratory/pilot plant equipment. The GFD is a miniature version of a production filter dryer, allowing easy lab-scale filtration and drying with the same reliability and benefits as full size PSL agitated nutsche filter dryer (ANFD) products. PSL's full range of GFDs, including MINI LAB GFD, LAB GFD and MAXI LAB GFD, ensure that any laboratory's needs are fulfilled.
The GFD works on a vacuum, has a heated jacket for drying and our unique lift-out filtration basket for collection of the product. The GFD is an enhanced simplistic version of filter dryer that provides modern filtration and drying techniques within a laboratory environment.
simplefilter
PSL's simplefilter is a flexible single plate pressure filtration/vacuum filtration solution. The simplefilter consists of a heated insulated vessel, with a filtration media attached to a heated swing-out base and a side discharge hatch for efficient drying and uncomplicated removal of the product. For maximum flexibility PSL's simplefilter is mobile thus allowing you to move it freely around to different areas within the plant. High containment discharge is available through a nitrogen purged glovebag.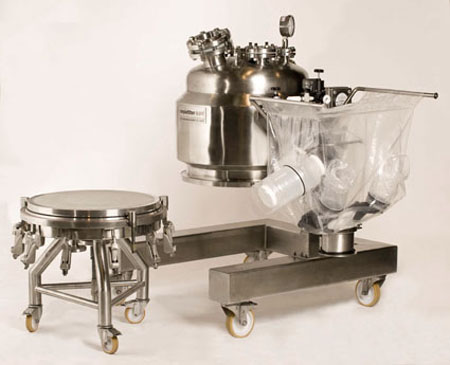 As a simplified alternative to more complex and costly technologies, this pressure/vacuum filter is designed for many pharmaceutical and chemical applications such as: hydrogenation, carbon filtration, catalyst recovery, pre-filter for micro-filtration, APIs and intermediate filtration. To suit all process requirements, the simplefilter is available in two standard sizes: 0.125m2 (50L) and 0.3m2 (130L) and PFA coated carbon steel as standard, with 316L stainless steel and C22 Alloy options available.
Contained Filtration
PSL's FilterBox is the optimum contained filtration and drying solution for handling highly potent APIs and other highly active or cytotoxic compounds.
The FilterBox is pioneering powder handling technology that provides fully contained filtration, drying, charging, sampling, discharging, base-opening and cleaning, as well as filter mesh inspection and changing.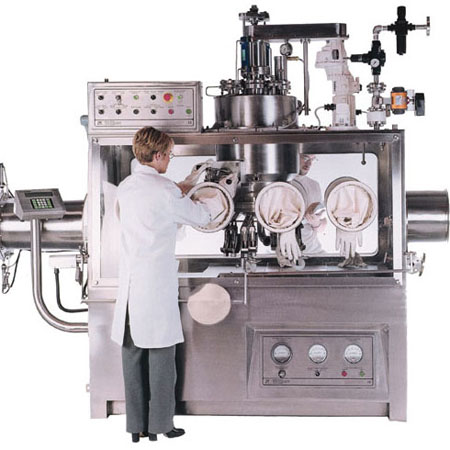 Production FilterBox for contained filtration and drying of highly potent APIs
PSL's GFD FilterBox is an acrylic glovebox surrounding PSL's MINI LAB (0.002m²) or LAB (0.01m²) Glass Filter Dryer (GFD). It is an ideal solution for small-scale synthesis of highly active products.
PSL's Production FilterBox is a stainless steel glove box isolator surrounding PSL's MAXI LAB (0.05m²)Glass Filter Dryer (GFD) or a 0.125m², 0.2m² or 0.3m² agitated nutsche filter dryer.
FilterBox benefits:
cGMP
Fully contained powder handling system
Safe cleaning procedure: vessel base, filtration media and discharge plug access in a completely contained environment
More compact design: reducing floor space requirement and impact on plant design
Nitrogen purge system
Assured containment to nanogram levels
Direct scale-up from small scale synthesis to full scale production
PSL's FilterBox provides the optimum contained filtration and drying solution for handling highly potent APIs and guarantees high containment to nanogram levels.
Glovebox and Isolator Containment Systems
PSL is an original pioneer of high containment glove box equipment and supports the global pharmaceutical, biopharmaceutical, chemical and laboratory industries with complete quality and safety assured barrier containment solutions for powder handling of highly potent and valuable products.
Our established team of process experts provides innovative solutions to suit every process and application − from simple, small scale isolators to complex multi-chamber contained glovebox process solutions. We operate the latest global technology for containment production and utilise continual experience and feedback from more than 30 countries.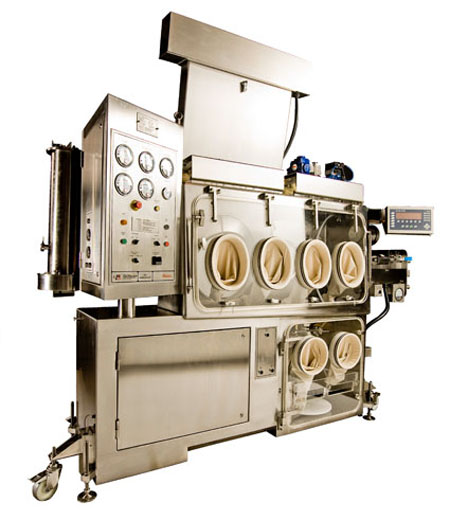 PSL's high containment isolator solutions provide containment to nanograms level and include the following products:
Tray Dryers
PSL's CakeStand tray drying technology has been carefully developed with efficiency, ergonomics and safety in mind. PSL tray dryers can operate in downflow booths, cleanrooms or in conjunction with PSL containment isolators. PSL tray dryers are designed from laboratory to production scale and can meet sterile process requirements when necessary for drying highly toxic or sensitive products.
The new CakeStand tray dryer from PSL provides exceptional drying ability through a unique heat transfer system - generating total heat uniformity across all heating plates. The CakeStand tray dryer has been expertly designed by experienced process engineers to target optimal drying under full vacuum, good ergonomics and easy cleaning. The CakeStand design is highly ergonomic reducing any opportunity for overreach and accidental spillage. The cakeStand features optimum tray size, a pivot door design and both front and back access.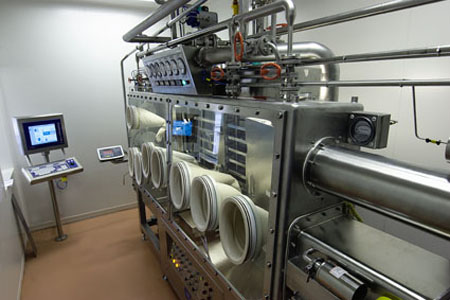 Experience total ease of cleaning as all areas can be easily accessed by every heating plate hanging directly from the roof of the cabinet, therefore no inaccessible gaps. The CakeStand also features a unique completely open floor inside the drying cabinet. PSL's new CakeStand Tray Dryer design overcomes the inherent difficulties experienced with traditional tray dryers. The modular design allows capacities from kilograms to large-scale production and sterile process requirements can be met when necessary for drying highly toxic or sensitive products.
Whether you require a free-standing tray drying unit or a high containment isolator system surrounding your CakeStand tray dryer, both are available as standard. PSL containment systems provide high containment to nanograms level for optimum operator and product protection.
Service, Spares and Aftercare
PSL Serve is our dedicated after-sales customer care, on-site service and spares team. They are technical specialists, here to provide support for your new equipment anywhere in the world, including preventative maintenance contracts and emergency call-out. Our service engineers will maintain, validate or if needed upgrade your equipment, making sure that every installation meets industry regulations and that your personnel, products and business are protected.
OEL testing and installation
The trend of using high potency compounds in drug manufacturing is increasing and operator exposure levels (OELs) are becoming more and more rigorous. PSL can provide a full OEL certification programme by defining OELs for each containment system. Our containment solutions can be tested and validated to achieve guaranteed containment to nanograms level. In conjunction with our clients, PSL generates an OEL test protocol, following industry best practice guidelines.
Contact us
PSL USA
Cliffside Research Park
3944 North Mountain View Drive
STE. 100, Boise, ID 83704 USA
T +1 208 376 7008
pslusa@powdersystems.com
PSL UK
Estuary Business Park
Liverpool, L24 8RG, UK
(Google maps view)
T +44 151 448 7700
sales@powdersystems.com
PSL Europe
5 rue de Brest
69002 Lyon France
T +33 9534 04448
saleseu@powdersystems.com
PSL Czech
Pražská 147/30
460 01 Liberec 2
Czech Republic
T +420 481 120 052
salesczech@powdersystems.com
PSL India
No. 001, Shree Building
Shailendra Nagar Road, Overi Pada
Dahisar (East) Mumbai - 400 068
T +91 22 28908232
salesindia@powdersystems.com
PSL Asia-Pacific
Level 1, 100 Havelock Street
Perth WA
6005 Australia T+61 861 020 085
(Google maps view)
salesapac@powdersystems.com
FilterBox; GFD Lab Filter Dryer; MicroSphere Refiner; Simplefilter.